I just finished reading the cutest book. It has been awhile since I've read a book that I couldn't put down. Mainly because graduate school doesn't leave much free time for pleasure reading. I really don't have the time, now, either, but I couldn't resist! My grandma gave me this book last year and I just now got around to reading it. I don't know what took me so long! It is adorable!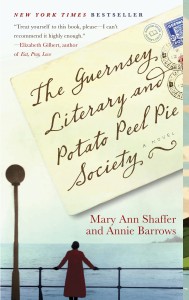 The Guernsey Literary and Potato Peel Pie Society: A Novel
"January 1946: Writer Juliet Ashton receives a letter from a stranger, a founding member of the Guernsey Literary and Potato Peel Pie Society. And so begins a remarkable tale of the island of Guernsey during the German occupation, and of a society as extraordinary as its name." - from the back cover
This book is a historical novel - my favorite kind. Ok, so maybe the author doesn't write in the tone of 1940s British people, and maybe the plot is predictable and "cheesy," but I learned so much about WWII! I found it funny, emotional, charming, and inspiring. If you are looking for a summer read, I highly suggest you check this one out. It is intelligently written, yet light enough to take on vacation.
Find an in-depth review
here
.
Find the book's official website
here
.
What are you reading this summer?
In other news, Peter and I are moving to Brazil in 3 weeks! More details to come later!